Outside is is still snowing!
Inside is is snug and warm and LIGHT!
Yesterday I installed a
and today it is sew much easier to sew!
As my regular readers know, I am significantly vision impaired.
I need a lot of light to see my work and it needs not to shine directly in my eyes,
as a twist of fate also makes my eyes light sensitive.
I am awaiting my next eye surgery.
It was to have been today, but we had to change it to late February.
Good thing, too!
There is a state ordered travel ban in effect here due to the blizzard.
So I am sewing today.
Many in my state have lost power but we are okay right now and I am hoping the lights stay on.
Especially now that I have this lovely new light shed on my sewing machine bed,
Here is a photo I took yesterday ...
(This photo shows just my regular sewing machine lights
with the large overhead light that I have had to use to supplement.)


(This photo shows the light just from the new LED strip;
my machine is turned off.)


I hope you can see how much brighter this is.
My photos are not quite doing this justice.
These lights were very easy to attach following the instructions in the package
and a video of the link above ...
and the best thing is that they shine light right where I need it and not in my eye!
What am I working on today ...
These cute monkey fabrics!
The last weekend in December I cut and started sewing this
HERE
These mystery patterns are also available
This one does not seem to be for sale as a whole pattern
so I cannot show you the full top yet.
I am putting the finishing touches on the top today
and hope to be quilting it soon!
I will post pictures when I know it is okay to reveal the pattern.
I have been doing a lot of sewing lately that I cannot show just yet.
I am looking forward to showing more of these projects as soon as I can.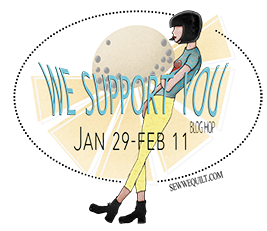 ... like my We Support You project for
Here is what it looks like outside my window today ...
You can see how deep the snow is ... almost to the top of our 30 gallon yard waste bucket
in the left side of the photo near the fence.
We are in the 28" to 36" band of snow from Winter Storm Juno.
We have over 30" now and the snow is still falling and drifting.
and the winds are picking up again.
May everyone in the storm's path stay safe and snug and warm.
Tomorrow will be a good day to stay in and sew, too.
If the lights go out, I do have a hand project that I am working one, too.
Let me sew ... let me sew ... let me sew ... ;)