There is pie...
and a porg because the force is very much with us
here in my daughter's home.
Our thoughts are with my son-in-law who enjoyed his Thanksgiving
dinner while deployed far far away.
May you and yours enjoy your feast!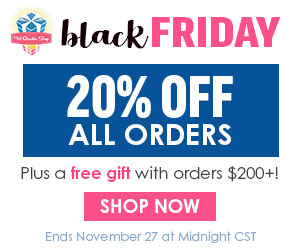 The Black Friday Sale is happening now
at "my favorite online quilt shop
with a local quilt shop feel."

Click on the banner above to shop
or the one on the top of my sidebar
I will receive a small commission of the sale
with no added expense to you.
My blog does not track this information.
The Fat Quarter Shop site tracks the sale.
I am thankful to be affiliated in this small way with my favorite
place to shop for all my sewing and stitching needs.
Thank you, Fat Quarter Shop
A big thank you to all my readers who have supported my quilty habits
I have much to be thankful for this year.
May you enjoy all life's blessings.