if
you
are
still sewing
and do not want to spoil the surprise
.
.
.
stop reading
;)
I am really happy with this mystery pattern
and with my quilt top ...
"Torrents of Spring"
The reference is to Eugene Bozza's "Aux Bords du Torrent"
from "Jour d'été à la montagne."
There is a 20 second clip of this on my playlist.
It is a flute piece that I have enjoyed hearing my daughter play.
If you are looking for good directions for a Bargello Twist Quilt, these instructions were very easy to follow.
The fabric requirements are written for three jelly rolls of 40 strips that have two of each fabric, but I cut from some yardage I had in my stash. A half yard of 20 different colors or fabrics works well.
Pattern by
Jessica J.E. Smith
also available
Here
I am thinking that I would like to make this again as a monochromatic or two-color quilt.
This will be pinned up next to my machine while I am figuring how to add a custom border with the scraps I have left.
Linking up again at
Live a Colorful Life
for
I think the question mark, the post layout and the flute music reference are all random enough ... ;)
and with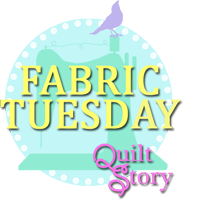 even though I am late
just because I always enjoy all the pretty pictures here.
Jumping on the Bloglovin'
Band Wagon ...
Follow my blog with Bloglovin
Have a happy quilty day!
:)